The Board of Education of Anne Arundel County will decide what Crofton area redistricting proposals it will take to public hearing at its next meeting, scheduled for January 9, 2019.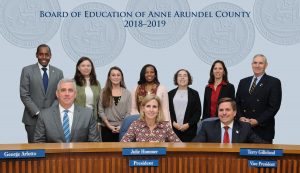 At its December 5, 2018, meeting, the Board was presented with Superintendent George Arlotto's recommendation regarding the redistricting of school boundaries to form an attendance area for the Crofton area. The recommendation generally aligned with that crafted by the Crofton Area Redistricting Committee with exception of the following:
All boundary shifts will occur in the 2020-2021 school year.
There is no recommended grandfathering.
The committee had originally recommended that some boundary shifts take effect in the 2019-2020 school year, with a two-year grandfathering.
Dr. Arlotto's recommendation would:
redistrict all Crofton Elementary School and Crofton Middle School students in the Two Rivers/Forks of the Patuxent and Waugh Chapel communities temporarily to Piney Orchard Elementary School and Arundel Middle School beginning in the 2020-2021 school year, until West County Elementary School opens in the Arundel feeder system. These students will continue to attend Arundel High School.
redistrict the Riverwalk at Crofton community to Crofton Woods Elementary School, Crofton Middle School and Crofton Area High School beginning in the 2020-2021 school year (there are no students currently living in this area currently.)
redistrict all Arundel High School students living in the Nantucket, Crofton Meadows, and Crofton elementary school attendance zones on the east side of Route 3 to Crofton Area High School beginning in the 2020-2021 school year. These students would continue to attend Crofton Middle School.
redistrict all South River High School students in the Crofton Meadows and Crofton Woods elementary school attendance zones to Crofton Area High School beginning in the 2020-2021 school year. These students would continue to attend Crofton Middle School.
not include grandfathering provisions at any schools.
The Board can choose to move Dr. Arlotto's recommendation forward, choose others developed by the committee, or formulate one of its own to take to public hearing for comment.
School system staff will conduct a briefing at which the public can get answers to questions regarding the plan or plans moved forward.
Dates for the briefing and hearings will be announced in the near future.
The Board will meet in a public session at 8:30 a.m. for the sole purpose of voting to immediately go into closed session, during which time it will discuss confidential matters as permitted by the Maryland Open Meetings Act including, but not limited to, legal advice, personnel, and negotiations. Closed session is not open to the public. The public session of the meeting will resume at 10 a.m.
A complete agenda for the meeting accompanies this news release. More information on agenda items will be posted on the AACPS website in the Board Docs section under the Board of Education tab.
The general session of Wednesday's Board meeting will be broadcast live on AACPS-TV, which can be found on Channel 96 on Comcast and Broadstripe, and Channel 36 on Verizon. High definition broadcasts can be seen on Channel 996 on Comcast, Channel 496 on Broadstripe, and Channel 1961 on Verizon. Rebroadcasts are scheduled for 7:00 p.m. the day after the meeting and 2:00 p.m. on subsequent Sundays.
The meeting can also be viewed live on the Internet here.
Archived videos of Board meetings can be found online here.
 Board of Education meeting agenda, 1-9-19