The Board of Education of Anne Arundel County will consider approval of a $3 million contract to construct a kindergarten addition at Millersville Elementary School at its next meeting, scheduled for May 15, 2019.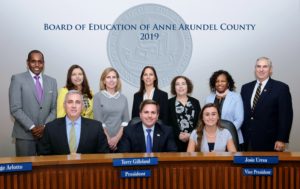 The contract would be the latest in a spring that has been full of movement toward enhancing educational environments for students across the county. The Board reviewed educational specifications for three elementary schools at its last meeting, and the County Council is now considering County Executive Steuart Pittman's proposal to allocated $165.1 million in funding for the Board's Fiscal Year 2020 capital budget request. That request contains feasibility study, design, or construction funding for nine schools.
Also at Wednesday's meeting, the Board will:
consider approval of educational specifications for new Old Mill West High School and kindergarten additions at Sunset and Van Bokkelen elementary schools. The documents set forth the optimum teaching and learning environments, consistent with fiscal constraints, for the schools and set the stage for construction projects scheduled to occur over the next few years.
consider for the second time a policy change that would eliminate class rank. That policy will come before the Board at least once more before the Board votes on it.
The Board will meet in a public session at 8:30 a.m. for the sole purpose of voting to immediately go into closed session, during which time it will discuss confidential matters as permitted by the Maryland Open Meetings Act including, but not limited to, legal advice, personnel, and negotiations. Closed session is not open to the public. The public session of the meeting will resume at 10 a.m.
A complete agenda for the meeting accompanies this news release. More information on agenda items will be posted on the AACPS website in the Board Docs section under the Board of Education tab.
The general session of Wednesday's Board meeting will be broadcast live on AACPS-TV, which can be found on Channel 96 on Comcast and Broadstripe, and Channel 36 on Verizon. High definition broadcasts can be seen on Channel 996 on Comcast, Channel 496 on Broadstripe, and Channel 1961 on Verizon. Rebroadcasts are scheduled 2:00 p.m. on subsequent Sundays.
The meeting can also be viewed live on the Internet here.
Archived videos of Board meetings can be found online here.