As part of an ongoing effort to continue the dialogue and work toward creating climates free of hate and bigotry, Anne Arundel County Public Schools will host its second community meeting at Central Middle School later this month.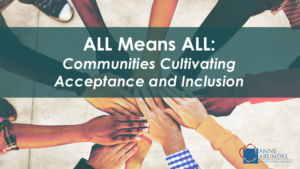 As was the case at the inaugural community meeting in Pasadena in January, "All Means All: Communities Cultivating Acceptance and Inclusion" will allow members of the public to join with students, parents, and school system staff to explore how communities are interconnected. It will begin at 6 p.m. on Tuesday, May 21, 2019, in the cafeteria at the school, located at 221 Central Avenue East in Edgewater.
"If we are going to create the kind of climates in which we expect our children to flourish, it is up to every sector of our communities to continue to engage in these kinds of conversations," Superintendent George Arlotto said. "This is our second community-style meeting, but we have also done important work with our Board of Education to create a Global Community Citizenship course that will enable students to learn more about themselves and others and continue to participate in community events with the same goals in mind. I hope that community groups will not only join us on May 21, but engage in their own conversations in which we can participate."
Those who attend the May 21 event will take part in an activity designed to explore the values and diversity of our local, national, and global communities. Participants will also consider information shared about each other and how this information can create climates of acceptance and inclusion for all our students.
Spanish language interpreters will be available for those who require that service.
SISTEMA ESCOLAR SERA ANFITRIÓN DE UNA SEGUNDA CONVERSACIÓN DE LA COMUNIDAD SOBRE LA ACEPTACIÓN E INCLUSIÓN
Publicado El 13 de mayo de 2019 por la Oficina de Comunicaciones de AACPS
Como parte de un esfuerzo continuo para seguir el diálogo y trabajar hacia la creación de climas libres de odio e intolerancia, las Escuelas Públicas del Condado de Anne Arundel acogerán su segunda reunión comunitaria en la Escuela Intermedia Central más tardar este mes.
Como fue el caso en la reunión inaugural de la comunidad en Pasadena en enero, "Todo Significa Todo: las Comunidades que Cultivan la Aceptación y la Inclusión" permitirán que los miembros del público se unan a los estudiantes, padres y personal del sistema escolar para explorar cómo las comunidades están Interconectados. Comenzará a las 6 p.m. el martes 21 de mayo de 2019, en la cafetería de la escuela, ubicada en 221 Central Avenue East en Edgewater.
"Si vamos a crear el tipo de entorno en los que esperamos que nuestros hijos prosperen, depende de todos los sectores de nuestras comunidades de seguir involucrados en este tipo de conversaciones", dijo el Superintendente George Arlotto. "Esta es nuestra segunda reunión de estilo comunitario, pero también hemos hecho un trabajo importante con nuestra Junta de Educación para crear un curso de Ciudadanía de la Comunidad Global que permitirá a los estudiantes aprender más sobre sí mismos y otros y seguir participando eventos de la comunidad con los mismos objetivos en mente. Espero que los grupos comunitarios no sólo se unan a nosotros el 21 de mayo, sino que participen en sus propias conversaciones en las que podamos participar. "
Los que asistan al evento del 21 de mayo, podrán participar en una actividad diseñada para explorar los valores y la diversidad de nuestras comunidades locales, nacionales y globales. Los participantes también considerarán la información compartida entre sí y cómo esta información puede crear climas de aceptación e inclusión para todos nuestros estudiantes.
Habrá intérpretes del idioma español disponibles para aquellos que requieran ese servicio.