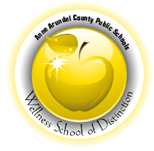 The AACPS Wellness Council is excited to announce that the application for 2019 Wellness Schools of Distinction award is now ready for completion.
This award recognizes schools that demonstrate a high priority for the health and well-being of students, staff, and school support­ers by going beyond the curriculum to produce positive outcomes for the entire school community.
To win the prestigious honor, a school must thoroughly detail its efforts in addressing each of the ten components of the Whole School, Whole Community, Whole Child (WSCC) model as outlined by the Centers for Disease Control: health education; physical activity; health services; nutrition environment and services; counseling, psychological, and social services; social and emotional climate; physical environment; employee wellness; family engagement; and community involvement.  In support of all schools, the AACPS Wellness Council created a Wellness Toolkit, which provides a plethora of information for schools on how to successfully implement all of the components.
Schools that won the award in 2016 are now eligible to apply to maintain their designations.
Parents and community members are highly encouraged to be involved in the application process. While a copy of the application can be reviewed on the Wellness Schools web page, final submissions must be made online by a school employee with approval by the principal.  Only online applications submitted via the school system intranet will be accepted.