The Board of Education is set to select a redistricting option that will establish boundaries for the new Crofton Area High School and discuss the results of the recent 2019-2020 school year calendar survey at its next meeting, scheduled for April 17, 2019.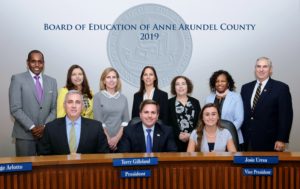 The Board in January decided to take four options to public hearing and took public testimony on those options on March 19, 2019. The plan adopted by the Board, which also could alter boundaries of other schools in the area, will go into effect in the 2020-2021 school year.
Public comment on the Superintendent's Recommendation on Redistricting was taken at the Board of Education Public Hearing on March 19, 2019. Accordingly, no public comment on the recommendation will be taken on April 17, 2019. If amendments are offered by Board members, public comment will be taken on those amendments. As always written testimony to the Board office is accepted and encouraged at boardoffice@aacps.org.
At Wednesday's meeting, the Board will also discuss the recent AACPS calendar survey which sought to gauge public preferences on extending the last day of class to Friday, June 19, 2020, in order to make other changes – such as building in more inclement weather days, restoring a full week of Easter/Spring break, or closing for Rosh Hashanah – within the calendar.
The results of that survey can be found here. After reviewing the results, both Superintendent George Arlotto and the school system's Calendar Committee – made up of parents, employees, and bargaining unit representatives – have recommended that the calendar remain as adopted by the Board, inclusive of changes to language regarding religious observances adopted in January and February 2019.
The Board will meet in a public session at 5:30 p.m. on Wednesday for the sole purpose of voting to immediately go into closed session, during which time it will discuss confidential matters as permitted by the Maryland Open Meetings Act including, but not limited to, legal advice, personnel, and negotiations. Closed session is not open to the public. The public session of the meeting will resume at 7 p.m.
A complete agenda for the meeting accompanies this news release. More information on agenda items will be posted on the AACPS website in the Board Docs section under the Board of Education tab.
The general session of Wednesday's Board meeting will be broadcast live on AACPS-TV, which can be found on Channel 96 on Comcast and Broadstripe, and Channel 36 on Verizon. High definition broadcasts can be seen on Channel 996 on Comcast, Channel 496 on Broadstripe, and Channel 1961 on Verizon. Rebroadcasts are scheduled for 7 p.m. the day after the meeting and 2 p.m. on subsequent Sundays.
The meeting can also be viewed live on the Internet here.
Archived videos of Board meetings can be found online here.
Board of Education meeting agenda, 4-17-19