Anne Arundel County Public Schools Director of Partnerships, Development, and Marketing Carol Ann McCurdy has been honored as one of the 2019 Women Who Make A Difference by the Northern Anne Arundel County Chamber of Commerce.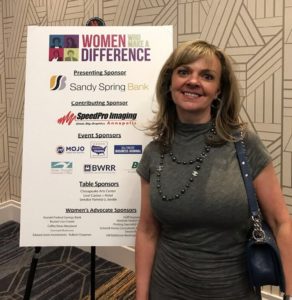 McCurdy, who has headed the department since its formation in 2014, was one of eight women honored by the chamber for their contributions in business, philanthropic endeavors, and public service. The honorees were recognized for their work at a luncheon yesterday.
"First as a student, then as a teacher, and now as an administrator, I have been provided with so many opportunities by AACPS," said McCurdy, who began her Anne Arundel County Public Schools career in 1995. "I am incredibly appreciative today to be able to have the chance to engage with members of our community on behalf of students."
Prior to assuming her current position, McCurdy also headed the school system's Advancement Via Individual Determination (AVID) program.
Also honored by the chamber at yesterday's event were:
Dr. Diane Dixon-Proctor, pastor of Sharp Street United Methodist Church and a member of the Anne Arundel Community College Board of Trustees
Carmen E. Gonzales, Director of Communications for Live! Casino & Hotel
Ann Brennan, owner of Ann's Social Media and Marketing and creator of Burgers & Bands for Suicide Prevention
Ginina A. Jackson-Stevenson, owner of The Law Office of Ginina A. Stevenson, LLC
Belinda Fraley Huesman, Executive Director and Chief Executive Officer of the Chesapeake Arts Center
Pamela G. Beidle, District 32, chair of the Anne Arundel County Senate Delegation, former state delegate and county councilwoman, and former owner of Beidle Insurance
Erin Lewis, owner of Goosehead Insurance and founder of The Dream Queen Association and Foundation