The Board of Education will hear a presentation about Anne Arundel County Public Schools' Service Learning Program at its next meeting, scheduled for March 20, 2019.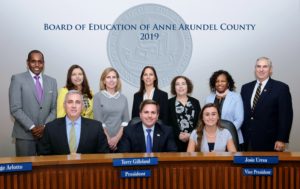 The Maryland State Department of Education requires the completion of 75 hours of student service learning which includes preparation, action, and reflection. Each county decides how to implement its service learning program. In AACPS, these hours are infused into the curriculum from fifth through 11th grades, but students can go well beyond that and utilize the AACPS portal to explore different community-based service opportunities while benefiting from the "intangibles" that service learning fosters.
The Board will meet in a public session at 5:30 p.m. for the sole purpose of voting to immediately go into closed session, during which time it will discuss confidential matters as permitted by the Maryland Open Meetings Act including, but not limited to, legal advice, personnel, and negotiations. Closed session is not open to the public. The public session of the meeting will resume at 7 p.m.
A complete agenda for the meeting accompanies this news release. More information on agenda items will be posted on the AACPS website in the Board Docs section under the Board of Education tab.
The general session of Wednesday's Board meeting will be broadcast live on AACPS-TV, which can be found on Channel 96 on Comcast and Broadstripe, and Channel 36 on Verizon. High definition broadcasts can be seen on Channel 996 on Comcast, Channel 496 on Broadstripe, and Channel 1961 on Verizon.
The meeting can also be viewed live on the Internet here.
Archived videos of Board meetings can be found online here.
Board of Education meeting agenda, 3-20-19