The Board of Education of Anne Arundel County will hold elections for officers and discuss the Global Community Citizenship course that Superintendent George Arlotto is planning to make a graduation requirement for all high school seniors beginning with next year's freshman at its next meeting, scheduled for February 6, 2019.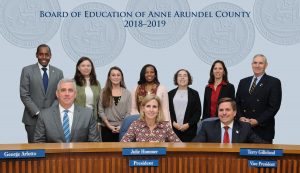 The election of officers comes in the wake of the Board's adoption of changes to Policy BBC, Board Organizational Meeting and Board Officers, at its January 23, 2019, meeting. Those changes were made to more directly align the election of officers with the dates on which newly elected Board members will take office. Members now assume their seats on the first Monday in December after an election.
The Board will also discuss for the third time the Global Community Citizenship course that has been implemented at Arundel High School for the last three semesters. The course is designed to explore the values and diversity of our local, national, and global communities and to foster climates where acceptance and inclusion are norms. More information about the course and its objectives can be found here.
Also at the meeting, the Board will consider a renewal of the charter for Monarch Academy Public Charter School, located in Glen Burnie.
The Board will meet in a public session at 8:30 a.m. for the sole purpose of voting to immediately go into closed session, during which time it will discuss confidential matters as permitted by the Maryland Open Meetings Act including, but not limited to, legal advice, personnel, and negotiations. Closed session is not open to the public. The public session of the meeting will resume at 10 a.m.
A complete agenda for the meeting accompanies this news release. More information on agenda items will be posted on the AACPS website in the Board Docs section under the Board of Education tab.
The general session of Wednesday's Board meeting will be broadcast live on AACPS-TV, which can be found on Channel 96 on Comcast and Broadstripe, and Channel 36 on Verizon. High definition broadcasts can be seen on Channel 996 on Comcast, Channel 496 on Broadstripe, and Channel 1961 on Verizon. Rebroadcasts are scheduled for 7:00 p.m. the day after the meeting and 2:00 p.m. on subsequent Sundays.
The meeting can also be viewed live on the Internet here.
Archived videos of Board meetings can be found online here.
Board of Education meeting agenda, 2-6-19