For the seventh consecutive year and ninth time overall, the National Procurement Institute has recognized Anne Arundel County Public Schools' Purchasing Office as one of the best in the United States.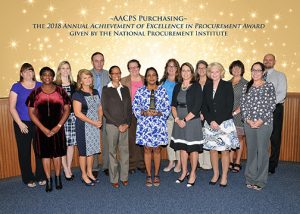 The 2018 Achievement of Excellence in Procurement Award once again puts AACPS' Purchasing Office in elite company.  AACPS is one of just six agencies in Maryland and 26 school districts across the United States to be among the 2018 national awardees.
The award recognizes organizations that demonstrate excellence by obtaining a high score based on standardized criteria including innovation, professionalism, productivity, e-procurement, and leadership attributes of the procurement organization.
"Every single employee in our organization plays a critical part in our mission to Elevate All Students and Eliminate All Gaps, and the highly skilled team in our Purchasing Office is no exception," Superintendent George Arlotto said. "We place a huge value on financial stewardship, and their excellent work is the embodiment of that. We are a better school system for our students and our county as a whole because of what our Purchasing Office achieves every day.